I had the privilege last week to be invited to provide Sports Massage for runners completing the London Marathon. The 19 runners were raising money for the charity RP Fighting Blindness.
We left for London at 8am on the day of the Marathon, packing up the car with my massage couch and pop-up banner. By coincidence we gave a lift to my friend Teresa, who has RP (Retinitis Pigmentosa), the same condition I was supporting through the charity with the Sports Massage.
On arrival at the very plush and luxurious Taj Hotel on Buckingham Gate, a short walk from the Marathon finish line, we received a lovely warm welcome from Emily of RP Fighting Blindness and her team. Emily told me that I was to to be the only therapist on the day, as the two others had had to pull out. As a result I was to treat all 19 runners taking part for the charity!
RP Fighting Blindness had put on showers, sandwiches and massage for their runners in the hotel, and the first one came in at around 1.30pm, having made the short walk from the finish line. Throughout the afternoon and early evening I treated runners from all different walks of life. It was very special to share with them some of their first thoughts after such a life-changing event as completing a marathon. Treating each person quite literally made my heart sing, to be able to be there at this point in their lives.
I was flabbergasted that most of the runners had only started training in January or February, which only adds to their magnificent achievement. They were all very grateful for the massage. None of them had ever received a treatment on the same day as running a race such as this, and they said it made a huge difference. I would have been curious to see how they had improved the following day.
Treating these runners taught me how to adapt my normal massage practice. I didn't feel it was fair to ask them to move around too much because of how shattered they were. So I was gently lifting their legs instead of expecting them to do that for me.
All in all I felt that this experience was right at the cutting edge of a sports massage career. The day was a great success.
Thanks to Emily and her team, and of course to all the runners! Here's what a few of them had to say about their massage: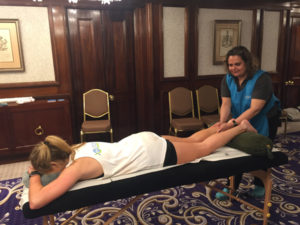 ---
"Dear Sally
The leg massage you gave me after the London Marathon worked its wonders. ln the days afterwards, everyone was amazed that I had no sore muscles at all! Given that I could hardly get on your massage table after the 26 mile run, I find that quite remarkable.
Thank you very much and best wishes
Bill Broadbent
London Marathon runner (over 65 age group)"
---
"Following the London marathon on the 22nd April, I was lucky enough to be provided with a post-run treatment from Sally Rodrigues, courtesy of RP Fighting Blindness.
Because the weather for the marathon was so much hotter than any run I have completed previously, I was really struggling with tight hamstrings and cramps, following dehydration during the race. Sally quickly realised which treatment I needed, and the areas that she needed to focus her massaging efforts.
Sally was obviously very experienced, and provided a thorough massage of my calves and hamstrings. Having been struggling to walk after the run, I was almost pain free after the massage, and my muscles felt much better! I really noticed the benefit of the massage in the two or three days following the marathon; where previously my muscles have been very tender after races, my legs felt much more mobile and pain-free!
As well as providing a brilliant and much-needed massage, I found it really interesting listening to Sally's experiences of being a VI runner herself, and also her stories of sailing and cycling all over the world as part of GB teams. Sally was an inspiration to me, and was so encouraging of my fundraising and running for RP Fighting Blindness.
Thank you Sally for the brilliant massage, it was great to meet you, and I will definitely be back for another treatment if you're in London next year!
Tim"